Factory Sales Event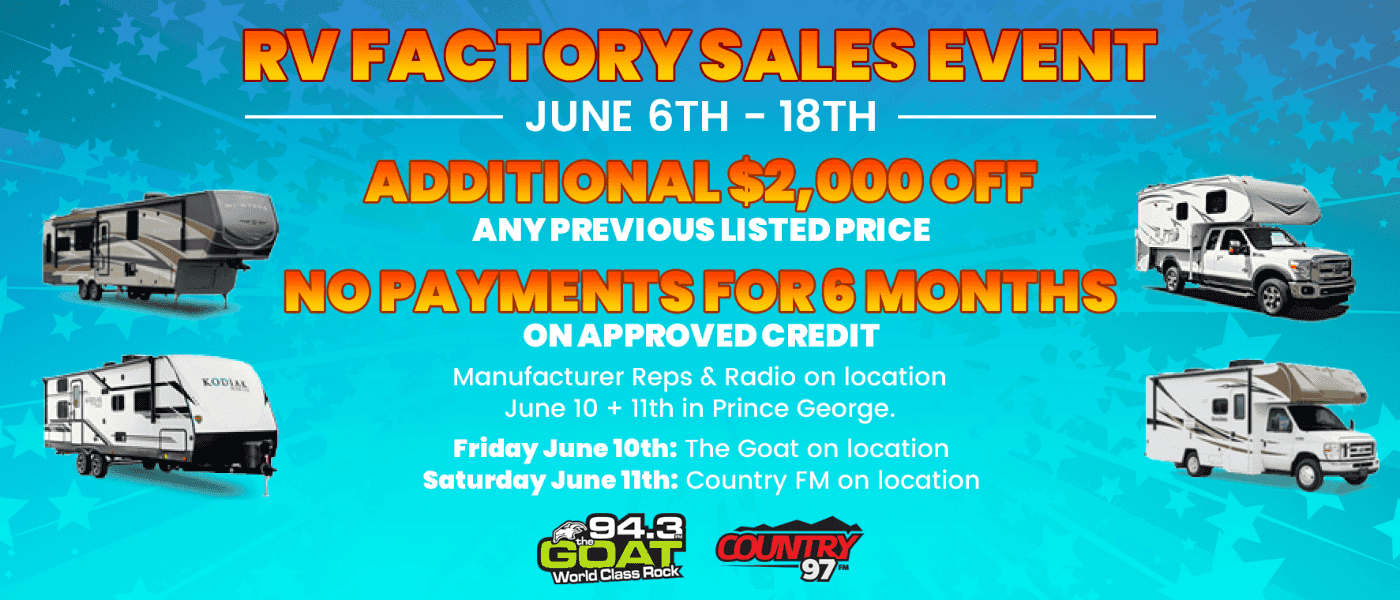 ---
Prince George Factory Sales Event
Here at SMP RV, we do our best to help you enjoy an incredible RV, camper, or even e-bike at a fantastic price. We believe that our vehicles can help you fully indulge in family adventures and road trips after a long work week in the Prince George area. But, what if we told you that you'll have the opportunity to enjoy even more savings on many of our exceptional vehicles?
We're proud to announce our Prince George factory sales event that'll help you enjoy extra savings on some of our popular new inventory. From our motorhomes to our truck campers, we think you'll love what our factory sales event has to offer. Learn more today with SMP RV!
When Is Our Factory Sales Event & What's Offered?
Our factory sales event will begin on June 6th and will run until June 25th. While our team is knowledgeable and passionate about what they do, you don't just have to take our word for it. In fact, during our factory sales event, there will be manufacturer representatives available for you to ask any questions or go over any concerns about many of the new inventory we're offering. Best of all, you'll get to enjoy $2,000 off any previous listed price during our factory sales event. If you've been wanting to take home one of our vehicles with you to Burns Lake, now's your chance!
When: June 6th, 2022 – June 18th (Now Extended till June 25th), 2022
Where:

805 1st Avenue, Prince George, BC
What:

$2,000 off any previous listed price
Special Radio Guests on June 10th & June 11th
In addition to the manufacturer representatives that'll be at our dealership for you to ask any questions, there will also be some special radio stations here as well. You might've even listened to these radio stations during your Terrace drives. Just keep in mind that these radio stations will only be at our dealership during specific days and not during the entire factory sales event. With that being said, here's when and who will be at our Houston dealership during our factory sales event:
June 10th, 2022:

GOAT FM Radio
June 11th, 2022:

Country FM Radio
Save On Your Next RV, Camper, & More Today With SMP RV!
What're you waiting for? If you're searching for a professional team you can count on offering an exceptional selection of RVs, campers, and more at an incredible price, you'll want to visit us during our Prince George factory sales event. As always, please let us know if you have any questions or concerns!